It's that time of year again, where hotels, bars and restaurants take up the festive spirit in a big way with events and specials that will definitely have you feeling warm and Christmassy! Here is our list of festive events that you should check out when in Dubai during Christmas.
Visit Reform Christmas Market
One of the most popular Christmas markets, the Reform Christmas Market has chic boutiques that house gorgeous and unique gifts for your loved ones. Go in with a "shop 'til you drop" attitude and take advantage of the delicious food and beverage sections as well. You can also try the various activities they have on offer such as visiting Santa's grotto and crafting your very own Christmas baubles! Santa himself will be on-site and in fashion on the back of a camel!
Free. Thu Nov 28–Sat Nov 30 10AM–8PM. Reform Social & Grill, The Lakes, Dubai (04 454 2638).
Christmas Shopping at Madinat Jumeirah Festive Market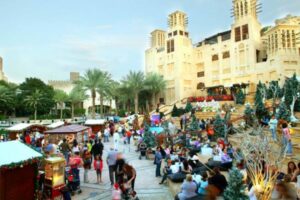 The popular festive market is back once again! This 16-day-long market has everything from live bands, daily visits from Santa, gingerbread house decorating, cookie decoration sessions and lots of food and drink for you!
Sun-Wed 3PM-late, Fri-Sat noon-late (Tue Dec 24-Wed Dec 25 noon-late). Fri Dec 13-Sat Dec 28. Fort Island, Madinat Jumeirah Conference Centre, Umm Sequim, www.jumeirah.com.
Dune Buggy in Dubai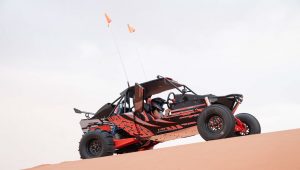 The wonders of the desert are best explored behind the wheel of the Desert Fox, the safest dune buggy Dubai has to offer, designed for fun with family and friends alike! Don't know how to drive? Don't worry! The dune buggies are fully automatic and come with a full roll cage, bucket seats, and safety harnesses, giving you all the cushion you need to fuel the adventurous spirit in you! What's more, with the code CHRISTMAS10, you'll get a 10% discount on all services booked directly from the Explorer Tours website for Christmas!
Christmas Tree Lighting at The Irish Village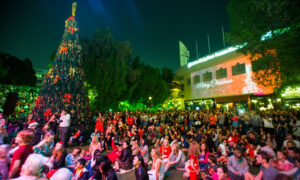 When it comes to Christmas, The Irish Village is not one to shy away, and this year is no different! We suggest you mark this event in your calendars as it is not one to be missed. The pub will host a special party rife with carol singing, mince pies, mulled grape wine and much more! Families are encouraged to bring their children along for the festive spectacle. Come grab your free mince pies and mulled grape!
Free. Wed Dec 11, 7PM-10PM. The Irish Village, Garhoud (04 282 4750).
Gingerbread House at Kambaa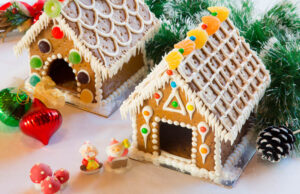 A literal feast for the senses, this gingerbread house is packed with surprises for kids of all ages alike. Puddings, yule logs, an assortment of chocolates and more! The house is open from Tuesday, December 3 until December 31 so there's plenty of time to check it out.
Free. Daily 7AM-11PM. Address Dubai Marina (4 888 3444).
Festive dishes at The Rose & Crown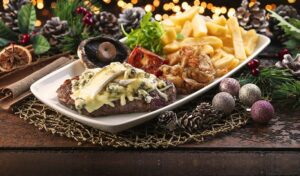 The build-up to Christmas can get one anxious. That's why The Rose & Crown is perfect on such an occasion! From the 7th of December right up until Boxing Day, The Rose & Crown will be serving up a festive turkey sandwich, beef Wellington and roast turkey to help satiate those Christmas cravings!
From Dhs55. Dec 7-26. The Atrium, Al Habtoor City (04 437 0022).
Christmas Tree Lighting Party at McGettigan's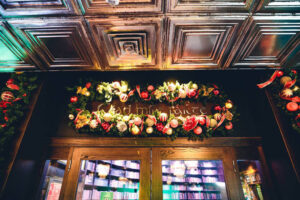 McGettigan's bars around the city will be host to carolling, mince pies, mulled grape and a scrumptious festive feast this Christmas! Join in on their Christmas Tree Lighting Party from 5PM to 7PM at McGettigan's Souk Madinat on Monday, November 25, McGettigan's JLT on Tuesday, November 26 and McGettigan's DWTC on Wednesday, November 27. Who knows, Santa might even be there to switch on the lights himself while musicians cheer you up with timeless Christmas carols and festive music!
Free. Mon Nov 25-Wed Nov 27, 5PM-7PM. Various locations, www.mcgettigans.com.
Visit the Winter Wonderland Weekend at the QE2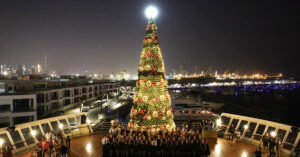 Welcome the "Winter Wonderland Weekend" on-board the iconic QE2 ocean liner this Christmas 2019, with special performances of Peter Pan, delicious Captain Hook brunches and much, much more! From Thursday, December 12 until Saturday, December 14, Peter Pan, Tinkerbell and the rest of The Lost Boys are flying over to perform their pirate pantomime adventure. The Captain Hook brunch will take place in Lido restaurant on Friday the 13th from 1PM until 4PM with dishes from India, Asia and the Mediterranean. The extravaganza kicks off with the Tree Lighting Event on Friday at sunset. To top it all, the Christmas market will make an appearance on Saturday the 14th, from 10AM until 2PM, with hand-made art, craft and Christmas gifts up for grabs!
Thu 12 Dec-Sat 14 Dec. QE2, Port Rashid, www.qe2.com/offers/winter-wonderland-weekend (04 526 8811).
Private Dinner in the Desert in Dubai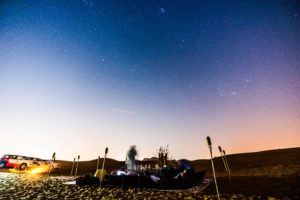 Keen on a dining experience you won't soon forget this Christmas? How about cashing in on a BBQ and shisha in your very own exclusive dinner set up in the middle of the desert with Explorer Tours' Private Dinner in the Desert package? Spend time and unwind under the magnificent night sky in one of the most mystical dinners in the desert Dubai has to offer! This experience is perfect if you're looking for an off-beat activity for the weekend, or are in the UAE for the first time. What's more, with the code CHRISTMAS10, you'll get a 10% discount on all services booked directly from the Explorer Tours website for Christmas!
Christmas Market at JBR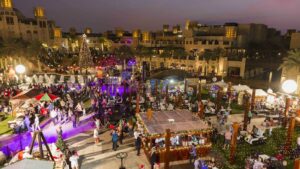 Hilton Dubai Jumeirah is bringing back its weekend-long Christmas Market, offering more than 20 festive stalls, Santa visits, gingerbread decorations and plenty of seasonal dishes. The market will run at the JBR hotel from Friday, December 6th until Saturday, December 7th, from 10AM until 4PM. Each of the stalls will offer Christmas goodies, decorations and gifts to fill your stockings. Expect the smell of turkey ham croquettes with cranberry dipping, roasted turkey roulade and beef cheese Käsekrainer hot dog to fill the air, along with festive sweets like giant churros with hot chocolate sauce, gingerbread man cookies, popcorn and candy floss!
Free entry, food from Dhs20. Fri Dec 6-Sat Dec 7, 10AM-4PM. Hilton Dubai Jumeirah, The Walk, JBR (04 318 2319).
Pre-Christmas Brunch at McGettigan's JLT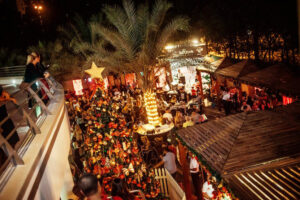 The popular Irish spot, McGettigan's, in JLT is throwing its big Jingle Bell Brunch this Christmas! Expect a traditional Christmas-themed buffet and much more, right here in Dubai. Kicking off the festivities on Thursday, December 12 from 1PM until 5PM, the annual brunch will have an à la carte menu and buffet, featuring their signature roast turkey with all the trimmings along with a selection of unlimited beverages to wash it all down with!
Dhs230 (Jingle Bell Brunch), Dhs199 (after brunch package). Thu Dec 12, 1PM-5PM. Cluster J, Bonnington Hotel, JLT, www.mcgettigans.com/jlt-dubai (04 356 0470).
Santa's Meet-And-Greet at The Irish Village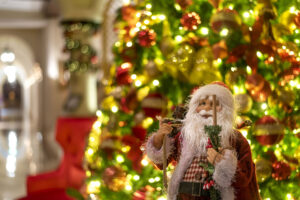 The Irish Village, Time Out Dubai's Pub of the Year 2019, has revealed its big Christmas Day event, with a visit from the jolly man in the big, red suit, a festive Christmas lunch and live Christmassy tunes to get you grooving! Taking place on Wednesday, December 25th from noon until 4PM, Santa will be coming to pay a visit to all families, along with handing out special gifts to little ones aged two to twelve.
Dhs199, Dhs99 (kids aged two-12), free (kids under two). Wed Dec 25, noon-4PM. The Irish Village, Garhoud, www.theirishvillage.com (04 282 4750).
The Laughter Factory's Christmas Party
Join Santa and have a good ol' "Ha-ha-ha!" this Christmas in Dubai, as The Laughter Factory has revealed a cracking party to celebrate the most wonderful time of the year. The festive party will kick off at JBR's Mövenpick Hotel Jumeirah Beach on Wednesday, December 11th in the resort's The Talk Restaurant at 7PM, with the buffet. Once you've had your fill of food, fill up on laughter as three acclaimed comedians take to the stage at 9PM. So, who's bringing festive cheer? First up is award-winning, Mock The Week star Nathan Canton. Next up is top Irish act Chris Kent and last, but definitely not least, is Sid Singh.
Dhs150 (soft drinks), Dhs225 (house beverages). Thu Dec 12 (Mövenpick Hotel Jumeirah Beach), 7PM (buffet), 9PM onwards (show); Fri Dec 13, 9PM onwards. Mövenpick Hotel Jumeirah Beach, JBR; TRYP by Wyndham Dubai, Barsha Heights, www.thelaughterfactory.com (050 8786728).
Christmas Cooking Classes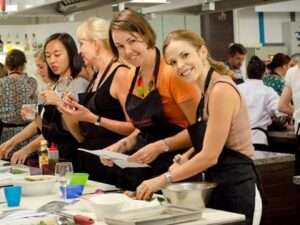 Spending Christmas in Dubai and want to know how to make festive treats? Accents at the InterContinental Dubai Marina has a special Christmas cooking class for you to try. You'll learn how to make festive scones, Madeleines and you can round it off with a special Christmas afternoon tea!
Sat Dec 7 & 15, 3PM-6PM. InterContinental Dubai Marina (04 446 6669).
Christmas tree lighting at Fairmont The Palm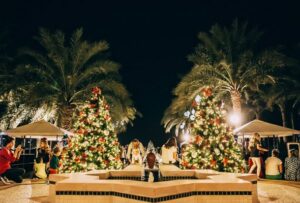 On Monday, December 9th, you can watch the hotel's Christmas tree light up and can expect Santa dancing away at his musical grotto, free Christ-mas treats and plenty more. Taking place from 5PM until 7PM, the merry event will be joined by one of the best kids' choirs in Dubai singing live Christmas carols. Families can meet the big man in a red suit at his musical grotto, while Cinderella and her entourage will be making a special guest appearance for those family snaps. The hotel will be offering festive treats and soft beverages, along with gingerbread making for the little ones. As for parents, there will be mulled grape and hot chocolate at Mashrabiya Lounge to sip on.
Free entry. Mon Dec 9, 5PM-7PM. Fairmont The Palm, Palm Jumeirah, www.fairmont.com/palm-dubai (04 457 3388).
Go to Cinderella's ball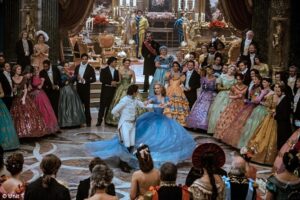 Fairmont The Palm is hosting Princess Cinderella's Brunch, a fairytale dining experience for all families to enjoy this Christmas. Taking place on Friday, December 13 from 12.30PM until 3.30PM, special guests of the princess (aka you) can meet all the characters from the popular tale, from the charming prince to the cruel stepsisters. The brunch will be set up at Fairmont The Palm's Flow Kitchen and will include an array of festive dishes and a buffet to tuck into at your royal table.
Dhs295 (soft drinks), Dhs395 (house beverages), Dhs150 (kids aged six-12), free (kids below six). Fri Dec 13, 12.30PM-3.30PM. Flow Kitchen, Fairmont The Palm, Palm Jumeirah, www.fairmont.com/palm-dubai/dining/flow-kitchen (04 457 3457).
Go on a festive ladies' night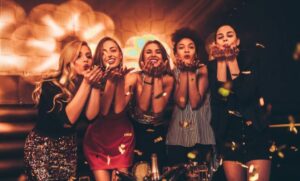 Fairmont The Palm's Bā Restaurant and Lounge is throwing a ladies' night for all the "jingle ladies" of Dubai, filled with quirky Christmas-themed drinks and festive décor. Kicking off the cheer on Thursday, December 19th, from 6PM until 9PM, ladies can expect three hours of unlimited Christmas drinks and even a visit from Santa himself, all for Dhs99.
Dhs99 (house beverages). Thu Dec 19, 6PM-9PM. Fairmont The Palm, Palm Jumeirah (04 457 3457).
Tree Lighting at Towers Rotana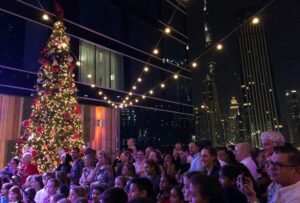 The hotel on Sheikh Zayed Road wants you to kick off the festive season with a range of big holiday events to celebrate Christmas and New Year, with seasonal buffets, Santa Claus and live entertainment. To start, Towers Rotana will host its annual Christmas tree lighting ceremony on Sunday, December 8th, from 7PM onwards. Families all over Dubai can expect Christmas carols, led by returning choir The Aspens, festive goodies to tuck into and a visit from Santa. He'll even be photo-ready for plenty of snaps.
Sun Dec 8, 7PM. Towers Rotana, Shiekh Zayed Road www.rotana.com/towersrotana (04 343 8000).
Magic Phil's Trouble in the Willows – A Pantomime at The Junction Theatre
Magic Phil is back with a fun-filled Christmas pantomime adventure. Trouble in the Willows – an adaptation of Wind in the Willows – is a traditional British pantomime with songs, dancing and plenty of silliness!
Dhs150, Dhs550 (family of four). Fri Dec 13 10AM, 1.30PM and 5.30PM. The Junction Theatre, Al Serkal Avenue, Dubai, www.ae.bookmyshow.com.
Dune Buggy with Overnight Dinner in Dubai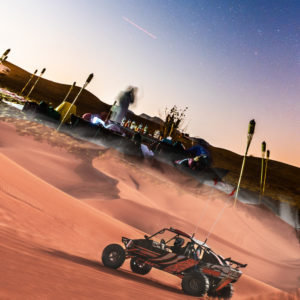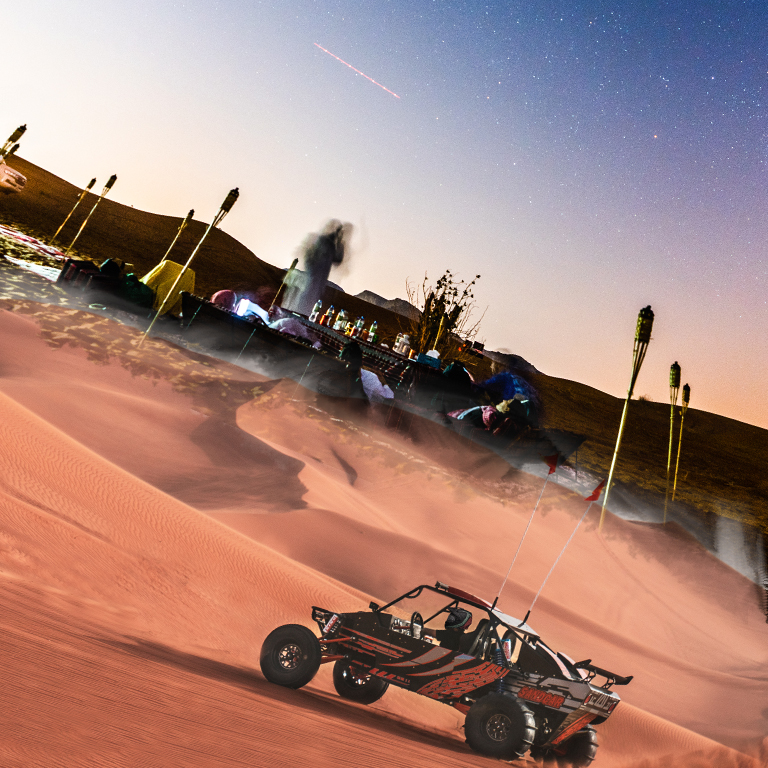 Step into the desert for a day of leisurely drives through the dunes in our Desert Fox dune buggies as you celebrate Christmas! Drive through the desert sands and spot the fascinating flora and fauna species that live there. Spend some time soaking in the history and culture that surrounds you, whilst our team prepares a cosy dinner setting. Once the sun sets, immerse yourself in a traditional Arabic dining experience, complete with sheesha and an Arabian BBQ. Dine on a bed of sand under a blanket of stars the Explorer Tours way!
The overnight stay will be arranged for you in a tent, and you will wake up to a refreshing and scrumptious breakfast, following which you'll be dropped back home. What's more, with the code CHRISTMAS10, you'll get a 10% discount on all services booked directly from the Explorer Tours website for Christmas!
Cirque de Cuisine – the Frozen Edition
The Cirque de Cuisine is back with "The Frozen Edition"! This massive brunch will take place across The Avenues at Atlantis the Palm from 7PM until 11PM, starting December 5th. Four hours of unlimited grub and drinks will take place across nine of the resort's restaurants. With live entertainment and performances throughout the resort, with each area offering something different. Nine restaurants will take part in the massive Christmas brunch, with the resort's signature outlets open exclusively for brunch ticketholders. You'll be able to eat at Nobu (where you can enjoy the tunes being played out by a live DJ and electronic violinist), Hakkasan, Gordon Ramsay's Bread Street Kitchen, Ronda Locatelli, Seafire and The Lost Chambers Aquarium courtesy Ossiano Chef de Cuisine.
From Dhs495. Thu Dec 5, 7PM-11PM (after-party 11PM-2.30AM). Atlantis the Palm, Palm Jumeirah, dubai.platinumlist.net.
ARTE Market
Dubai's Makers Market sees artisans from around the Emirates hosting stalls at locations across Dubai throughout December. Peruse handmade decorations, clothes, candles, soaps and so much more!
The market will be at Dubai Design District on Thursday, December 12th, at Times Square Center on Friday, December 13th, at QE2 on Saturday, December 14th, and at The Pointe, Palm Jumeirah from Thursday, December 19th to Saturday, December 21st.
For more dates, visit arte.ae
Mulled Grape Festival at Grapeskin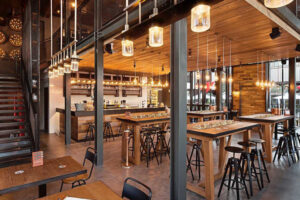 With more than 50 types of mulled grape on offer at this Christmas festival and live entertainment, you'll want to drop by the courtyard at Grapeskin. Drinks start at Dhs40 a glass, with no minimum spend.
From Dhs40. Fri Dec 20, 6PM-midnight. La Ville Hotel & Suites, City Walk, Al Safa Street (054 309 5948).
Festive Afternoon Tea at Al Bayt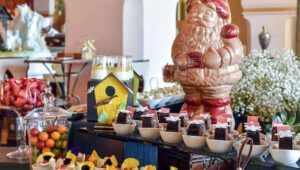 If you're on the hunt for festive cheer and feel like a cup of tea will do the trick, head to Al Bayt's for a festive afternoon of Tea! On Wednesday, December 25th from 2PM until 5:30PM, the lush venue will be offering the perfect selection of teas to get you into the Christmas mood, along with a special festive afternoon tea buffet featuring gourmet savouries and sweet treats. As if this wasn't tempting enough, you'll also be entertained by a harpist!
Dhs225. Wed Dec 25, 2PM-5.30PM. Al Bayt, Palace Downtown, Downtown Dubai (04 888 3444).
Dune buggy with Camel Trekking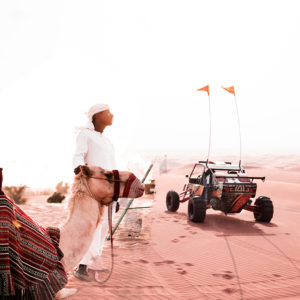 To experience why the nomadic Bedouin relied so heavily on the camel for their daily life, head on over to the desert and hop on one for yourself. This Christmas, journey through the desert, taking in the fresh air. Contrast this with a leisurely drive across the sands in our Desert Fox dune buggy right on through to sunset, when you'll get magnificent opportunities to take photographs against the spectacular backdrop of the setting sun on the orange sands! What's more, with the code CHRISTMAS10, you'll get a 10% discount on all services booked directly from the Explorer Tours website for Christmas!
Christmas Tree Lighting Event at Emirates Golf Club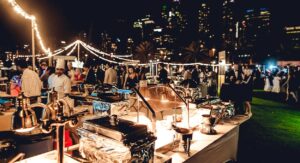 Emirates Golf Club will be hosting a special Christmas tree lighting session on Tuesday, December 5th from 6PM until 8PM. There will be a live choir singing Christmas classics, mulled grape and Christmas treats to go around. There will also be a festive roast at Spike bar for Dhs99 afterwards, with the option to upgrade to unlimited house beverages from 8PM-11PM for Dhs120.
Tue Dec 5, 6PM-8PM. Emirates Golf Club, Sheikh Zayed Road (04 417 9999).
Watch The Nutcracker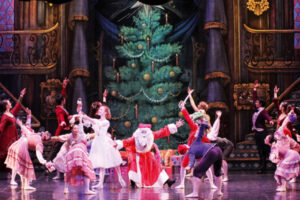 The Nutcracker prince transforms from a wooden toy to fully grown human warrior, protecting young Clara from the reign of the mouse army while seeking to regain his crown held by the Sugar Plum Fairy in this classic Tchaikovsky ballet performed by The Saint-Petersburg Tchaikovsky Ballet Theatre accompanied by a live orchestra at Dubai Opera just in time for Christmas!
From Dhs125. Wed Dec 4 & Thu Dec 5, 8PM. Fri Dec 6 & Sat Dec 7, 2PM & 8PM. Dubai Opera, Downtown Dubai, www.dubaiopera.com.
Aperitivo di Natale at Certo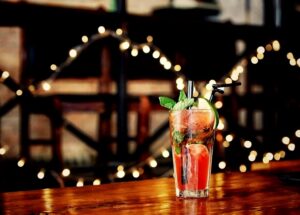 Celebrate Christmas this year with Certo, the Italian restaurant in Dubai Media City, offering its array of festive mixed drinks served with Christmas treats for as little as Dhs45!
Dhs45. Daily 5PM-7PM. Until Dec 31. Radisson Blu Dubai Media City (04 366 9186).