No presentation is required for the amusement city of the world, UAE, which hosts thousands of hundreds of tourists every year! UAE is the perfect destination for a short break, honeymoon or family holiday. With fantastic shopping and sights to see, UAE never disappoints! Get your hands on an exquisite designer wear, live an adventurous desert safari and witness the beauty of Dubai from above with a helicopter ride.

Take your pick of the best things to do in UAE with the Explorer recommendations for a perfect trip guide!
1. Dune Buggy Safari Dubai
Dubai is a fascinating and wonderful land that provides a chance for everybody to experience something new. From the large and impressive architecture to the great lands representing nature, there is something for everyone to enjoy. One of the weird things that you simply can't avoid in Dubai is Dubai wilderness safari. Dubai safaris are growing to be a successful sort of experience nowadays and a number of other travelers come annually to experience this excellent ride.
Dune Buggies Dubai have progressed significantly, evolving from their recreational value to their healing effects. They have diversified into several types from their simple design, evolving into various shapes and sizes capable of traversing even the most difficult mountain terrain. The best way to learn about the functionality and best features of this hot rod is to browse online.
2. Trekking in Ras AL Khaimah
If you are a mountain lover and love long drives then there are must visit place with lots of sharp bends and change in climate from Dubai with every turn as the altitude keeps rising. It is also very safe and beautiful for over night camping with family and friends. . The spectacular view during the sun rise lovely hiking trails makes the trekking in Ras AL Khaimah memorable.
3. Desert Safari Dubai
While the number of places around to visit is abundant, the number of activities around Dubai is just as riveting. You definitely don't want to miss out on exploring the deserts meshing into the abyss. It's a versatile activity that can be enjoyed with friends or family alike.
Experience the desert differently, experience Dubai differently. Click here to book an amazing Dubai-night.

4. Private Dinner in the Desert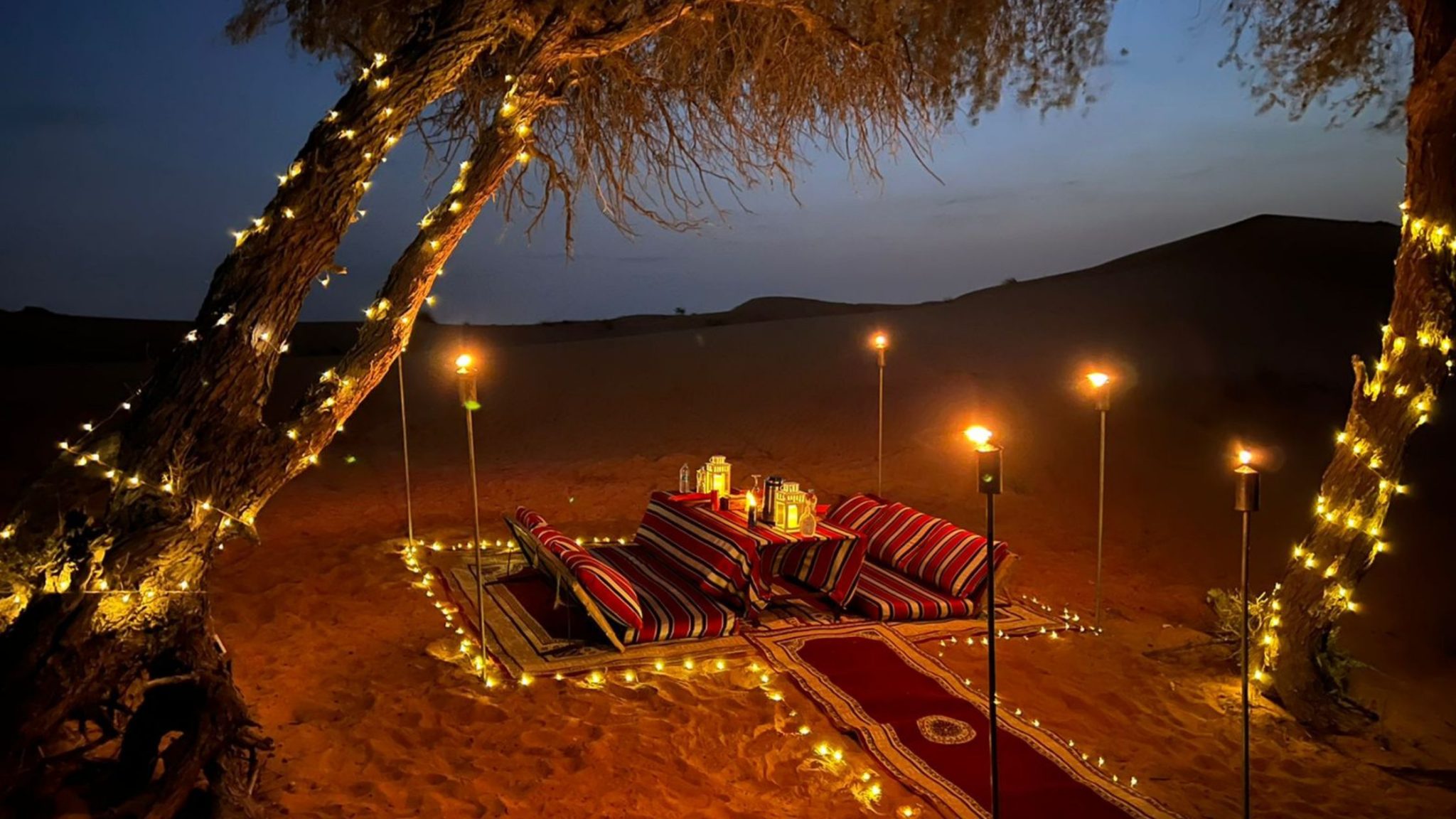 A romantic evening in the desert is one of the best ways to celebrate a milestone in our life or just spark the romance. Opting for a private dune dinner in the Dubai desert and starting the evening on a luxurious note is every ones dream. Delicious dinner under the stars in an alluring and dreamy atmosphere and it would be magical experience.
5. Helicopter Ride in Dubai
If you are looking for a stunning bird's-eye view of Dubai's skyline, you need to book yourself on to one of the best helicopter tours in Dubai. Although there is a huge variety of fun things to do in Dubai, such as its incredible architecture, amazing beaches, thriving entertainment sector, and desert safaris, a helicopter tour will give you a memorable time. Some of the best attractions in Dubai can be found along the coastline, such as the Palm Islands, Burj Al Arab Hotel, and Jumeirah Beach. As you approach the city, you'll be treated to a stunning bird's-eye view of the Burj Khalifa, the world's tallest building and the crowning glory of Dubai.
6.Yacht Tour In Dubai Marina
Unlike other countries in the world, Dubai is known famous for its high end architecture and exceeds anyones expectations. Sailing over the sea on Dubai would be an unforgettable moment in anyones life. Anyone can plan their vacation to be memorable and colorful with sailing experience.
There are many popular yachting destinations in dubai. The Marina Mall, the Marina promenade, and the Jumeirah Beach Residences can be seen on a visit to Marina (JBR). Marina and Palm Jumeirah. The Dubai Marina is the well known popular place to see from the yacht. With adventurous activities and costly open air dining activities, Dubai Marina wonders the travellers.
Explore the best views of Dubai sea. Sail through all the top landmarks along the coast, onboard a yacht.

7. Water Sports Activity Dubai
Water Spot would be anyones first choice if they are really interested for an adventurous beachy atmosphere.
The Jumeirah Beach is the famous destination spot for all kind of water sport activities.The Yacht touring and self driving boatings, Scuba diving and jet pack riding all makes your day remarkable.
All you have to do is pre-book whatever activity you would like to do.
Explore the best views of Dubai sea!
Don't you think Dubai is a fun city? Are you looking for some places to have fun and take a break from city life? What are you waiting for? These places would have surely given you a hint of where to head to. Why is Dubai entertainment all hyped? Go and visit these places to find out what's next.
Visit the explorertours.ae website to browse our amazing Dubai packages and get in touch with us via WhatsApp if you have any questions.